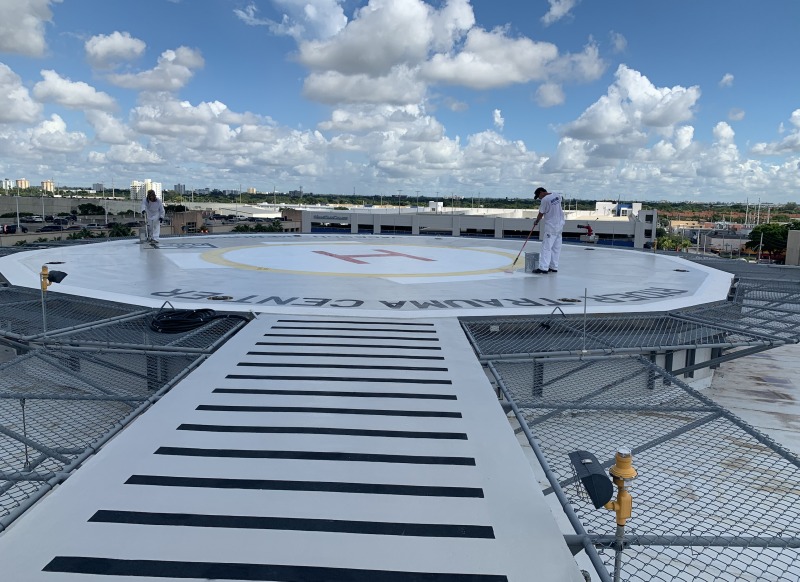 Hospital Painting in Miami, FL
Hospitals are some of the most essential buildings in our society, as they treat the sick and provide a safe place for people to recover from any range of health issues. However, since they have a lot of foot traffic and have a high number of people entering and exiting, they often need updating and regular maintenance. This includes painting. We provide the best hospital painting services in Miami, FL and the surrounding areas and would be happy to paint your hospital and ensure that you patients and visitors are comfortable and safe within the confines of the building.
Why Paint Your Hospital?
There are several reasons to paint your hospital. Decor, safety and maintenance are just a few. A bright welcoming waiting room, clean scuff free walls and hallways all add to the feeling of comfort for your patients and visitors. We can help create a design that adheres to yourcurrent specifications or work with your design agency to implement a facelift of the current design. With regular maintenance your hospital will always be welcoming visitors to a clean, freshly painted facility that says we care.
Why Choose Us?
If you are looking for a painting contractor to paint your hospital, we are the best option for a number of reasons. Here is why we think that we are the best partner for you to paint your hospital or healthcare building.
Courteous
Painting often requires us to enter the building and work around staff and patients. Our uniformed employees are polite, they work expeditiously and do their best not to interrupt your daily routine or disturb your guests and patients.
Experience
We have been painting hospitals in Miami-Dade and Broward for the past 25 years. Regardless of the environment we need to work in, weare capable of getting it done. From waiting rooms to patient rooms, stairwells to elevator towers, parking garages to basements, mechanical rooms, generator rooms, cafeterias, lobbies, corridors, labs, courtyards, striping of parking lots, expansion joints; we manage it all.
Scale
We have the manpower and equipment to efficiently expedite the painting of your hospital regardless of its size.
What To Expect From A Brite Project
Schedule a FREE ESTIMATE – Estimator will show up promptly at project Site.
Estimate Provided – Estimate for project provided Within 48-72 Hours
Schedule your Service – Coordinate with Estimator for earliest availability.
Begin Area Preparation – Prepare area where work is to be completed.
Complete Painting Service – Paint crew will carry out Job specified in Estimate.
Project Wrap-up - Project site Clean-up, Walk-thru & touch ups will be performed
Final Walk Thru with Client – Make sure Client is 100% Satisfied with Work Completed!